We had the opportunity to check out the latest Phonics program from All About Learning Press called All About Reading Level 1! All About Learning sent me the
Deluxe Reading Interactive Kit
, and the
All About Reading Level 1 Kit
for me to use in order to write this review. I was excited to see this product because we have used and love All About Spelling!
The Level 1 Kit consists of:
Teachers Manual, that is fully scripted and easy to follow.
Student Workbook, which contains worksheets games, and Fluency Practice.
Phonogram and word cards.
Three Readers:
Run, Bug, Run
The Runt Pig
and
Cobweb the Cat.
With the Deluxe Kit you receive a, a tote bag, letter tiles/magnets, reward stickers, the phonogram CD, and the reading card box. You only need to purchase the Deluxe kit once and it can be used for all levels of All About Reading.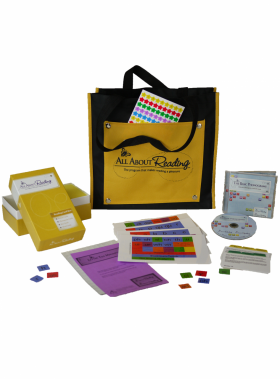 Now that you know what is included I will tell you how it works! All About Reading is a multi sensory phonics curriculum that pulls from the Orton-Gillingham method for teaching reading. If you are looking for a complete phonics curriculum that is completely open and go this is it. There is basically no teacher prep needed simply pull out your Dry Erase board assemble the letter tiles, fill you card box, and your ready to go. Each lesson is fully scripted and teachers need only to follow the manual. Level 1 contains 49 lessons and you just simply go through them at the pace appropriate for your student. Each lesson starts out by introducing new phonograms, then moves on to review, building words with the letter tiles(with letters already learned), word card practice, and accompanying worksheets and/or Fluency Practice sheets from the student book. At the end of each lesson they suggest that you read aloud to your student for 20 minutes. Once you get past lesson 4 every few lessons instructs you to have students read from one of the readers. The readers contain story that use words and phonograms already learned. The stories are fun and engaging and the illustrations are cute without giving too much away. There tons of helpful teachers tips throughout. There is also a section in the back of the book that gives you tips for preventing B and D reversals. I found this section very helpful as Sweetpea really struggles with that.
Level 1 will take your child through 3 letter words, short vowel words, Digraphs like SH, TH, CK, CH, ending/beginning consonant blends, compound words using short vowels, plural words, an intro to long vowels, and many common site words/rule breakers. There are also comprehension questions for the readers. Each level of All About Reading covers these 5 essential reading skills:
Phonological Awareness
Phonics and Decoding
Fluency
Vocabulary
and
Comprehension
I really love the use of the letter tiles, fluency practice sheets, and the readers.
For us Level 1 is too advanced for buttercup and a bit too easy for Sweetpea. I went ahead and did it with Sweetpea so I could see how it worked. Since it is review for her we would do 1-2 lessons at a time. It really was great review for her and she loved it. I wish I had it last year.
You can find out more info about
All About Reading at their website
, as well as view samples and pricing. The Level 1 Kit will cost you $107.70(currently $99.95) +SH, and the Deluxe Reading Interactive kit will cost you $48.95 +SH. While your there be sure to check out the other levels of All About Reading available and also their amazing spelling program All About Spelling!
All About Reading Level 1 Kit and the Deluxe Reading Interactive Kit were given to me free of charge in exchange for my honest review. No other compensation was given.
To see what other crew members thought visit the
Homeschool Crew blog
!