I recently received the book Educating the WholeHearted Child by Clay and Sally Clarkson from Apologia Educational Ministries for reviewing purposes. I was very surprised when it arrived how big of a book it was. Apparently it is the 3rd edition and there are over 100 pages of new material as well as many revisions added to this edition. For some reason I had never heard of this book before even though the original was written in the early 90's. I set about trying my best to read this entire 376 page book before writing this. I'm happy to say that for the most part I was able to read just about all of it. Educating the WholeHearted child is a parenting and home education book all in one that covers a huge range of topics. It is divided into 4 sections, Home, Learning, Methods, and Living. You will find wonderful info contained in each section for every part of the Christian Homeschool life. In the first section Home, the authors focus on God's design for the home and family, discipline, common homeschooling myths, encouragement to follow the holy spirits lead and calling in our lives, and more. I really appreciated reading their views on discipline and was inspired to contemplate this topic more. In section 2 Learning, topics such as, common home education methods, the WholeHearted Learning Model, turning your home into a learning environment, building a home library, and personalities and learning styles are covered. In this section I love the emphasis on whole/living books, and found their WholeHearted learning model to be very compatible to Charlotte Mason and other similar methods. I personally didn't agree with them that Heart of Dakota falls under the unit study category and felt it should be under the whole/living books heading. That is just a personal pet peeve and didn't really change my opinion of the book. As far the the WholeHearted Learning model they show this with a simple sketch of a home that contains three overlapping circles. The picture has learning divided into 5 sections; Discretionary Studies, Discovery Studies, Disciplined Studies, Discussion Studies, and Discipleship Studies. Also contained in section 2 is a personality test that the Clarckson's created. It was fun to read through it, but I wasn't really able to peg my own children down to well into the personality categories. Section 3 Methods delves deeper into the 5 WholeHearted learning model categories and is full of tons of helpful tips and hints as well as some book suggestions. Finally section 4 Living has a section speaking directly to Fathers and Mothers about their individual roles in the family as well as info on family time, home management, and scheduling. At the end of the book you will find a section called Postscript that contains a final encouraging chapter, book lists, and several helpful forms.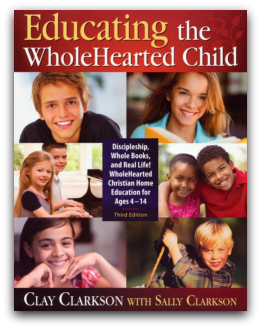 Overall I found Educating the WholeHearted Child to be well written, informative, encouraging, and full of great info. While I do not agree with everything it contains, I found enough gems contained in it to make it worth my while to recommend it to others. I especially like this quote from Chapter 6 page 122,
"You will not use all the methods we use or in the way we use them because your family is different and unique. It's not about duplicating what God has done in our family but about discovering what God wants to do in your family. That will be the best way for you."
I feel like this quote basically sums up this book for me. One other thing I liked about this book were the countless quotes and verses referenced in the sidebars as well as the In Our Home sections. It is so helpful to get a glimpse of how they implemented these principles in their actual home. You can purchase
Educating the WholeHearted Child directly from Apologia Educational Ministries for $22.00.
Some helpful links if you want to learn more about this book:
Table of Contents
, and
Sample of Chapter 1
.
I received Educating the WholeHearted Child from Apologia free of charge in exchange for my honest review. No other compensation was given.
Pros:
Well Written
Informative
Christian
Cons:
I can not think of any.
Head over to the
Homeschool Crew Blog
to see what everyone else is saying!