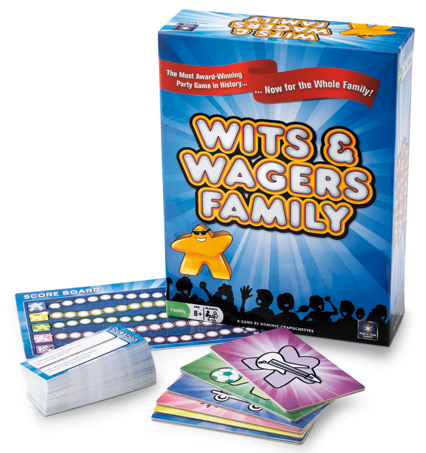 Let me start this review out by saying my kids are huge board game fans. So much so that Buster had a board game themed birthday party this last summer. They were excited when we received
Wits and Wagers Family
in the mail from
North Star Games
to review. It sat on our shelf for a little while before we had a chance to play it I figured like most games I needed to spend some time reading over the instructions in order for us to actually play it. Finally one evening I put the little kids to bed and pulled out the game for the rest of us to play. After looking at the instructions I was happy to find that it is a super simple game to play and it only took a few minutes to explain it to everyone. The game box says it is for 8+ and 3-10 players, but if your kids can write numbers and understand the questions they can play. My 6 year old was able to play easily. She didn't always understand the questions but it didn't matter. Wits and Wagers consists of a Score Board, a stack of trivia questions, 5 small dry erase boards, 5 dry erase markers, and 10 meeples(small wooden men used for your wagers). Each person or team is given a board and a marker. Someone reads the trivia question such as "How many times can a hummingbird flap its wings in 1 second" and then everyone writes their guess secretly on their board. All the boards are then lined up from smallest to largest number after the permanent 1 board. All players are then given a chance to place their meeples on the ones they believe could be closest to the answer without going over. 1 large meeple wager equals 2 points, 1 small meeple wager equals 1, and you get 1 point for writing the closest answer. After all wages are placed the answer is read and points are given. Play continues until someone reaches 15 points. Wits and Wagers is a super fun family game and it would be a fun party game too. Buster and Sweetpea love it and have asked to play it pretty much everyday since I opened it! Wits and Wagers has a retail price of $19.99 and can be purchased from a variety of online stores or local retail stores. The link for purchasing this game on North Star Games website take you to Amazon which has it for $15.23 right now. North Star Games has created a whole line of fun family games so be sure to go check out all of their other games too.

Wits and Wagers Family was given to me free of charge in exchange for my honest review. No other compensation was given.
For more reviews head over to the
Homeschool Crew blog
!