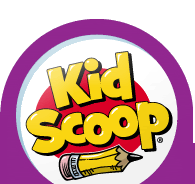 Do you have a reluctant reader? If you answered yes than "The Reluctant Reader Solution" by
KidScoop
might interest you. When you purchase "The Reluctant Reader Solution" you get 365 fun, and engaging worksheets for your child to use independently as well as a 12 month subscription to their
Kid Scoop News Online. The Idea is to get them reading by using high interest worksheets, games, and colorful online newspapers. The worksheets can be used chronologically or topically, and cover seasons, holidays, science, legends, characters, and many other topics.
The worksheets come as a PDF file, and can be downloaded right to your computer. You can then print them off in any order that you choose. From viewing and using some of them I would say they are appropriate for about 3rd-5th grade. Each topic has 5-7 worksheets that contain, mazes, puzzles, games, stories, and much more. I printed out the Valentine worksheets when my sister and her kids came over for a Valentines party. Here is my niece enjoying them!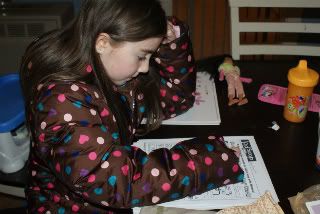 There are 12 issues of Kid Scoop News Online that you can view right on your computer. They remind me very much of those fun colorful magazine I used to enjoy reading at Dr.'s Offices except geared to a slightly higher age level.. Their viewer seems fairly easy to use, and you can zoom in and out on each page.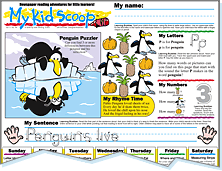 I personally could see this as a very useful tool for a school teacher. I suppose if your child was one of those kids who loves worksheets than you would find this program useful in the home school setting as well. The worksheets were slightly above even my oldest child's level, and therefore could not really be done fully independently as intended. Mainly because of the writing, and spelling involved. "The Reluctant Reader Solution" will cost you $97 dollars, and you can learn much more about it at the
Kid Scoop website
. Kid Scoop also promises a full money back guarantee. This is a quote taken directly from their website: "Try out the Reluctant Reader Solution in your home or classroom. Put it to use with the reluctant reader in your life. If you don't get measurable results — meaning if your child doesn't start enjoying reading more, and actually start reading on his own — I'll refund every cent of your investment with no questions whatsoever. I'm only happy if you get outstanding results, so I'd gladly offer you a refund if that doesn't happen. That means you truly have nothing to risk when you purchase the Reluctant Reader Solution today. You get 365 days of exciting activity sheets plus 12 months of Kid Scoop online, all for the risk-free investment of only $97."
You have nothing to loose, so check at "The Reluctant Reader Solution" today.
For more info or to see more review visit the
Homeschool Crew blog
.
The Reluctant Reader Solution was given to me free of charge from Kid Scoop in exchange for my honest review. No other compensation was given.
Pros:
Fun!
Engaging!
Colorful!
Money Back guarantee!
Cons:
A bit pricey.
Seems a bit like busy work to me.