Are you looking for an art curriculum that combines artist appreciation, and art instruction? Then
Artistic Pursuits
might be perfect for your family! I personally have been interested in checking out Artistic Pursuits for some time now, and was very excited to get a chance to review one of their books. Artistic Pursuits carries a full line of art instruction books from Preschool-Highschool!
We were sent one of their K-3rd books! Book 2 called "Stories of Artists and Their Art"! In each chapter you are introduced to a new artist, and instructed to complete projects based on their style. There are 32 lessons featuring artists from the Gothic period up to the 18th century. Each lesson has 1-2 pages about the artist written in a narrative style, which are then followed by an age appropriate project.
Below you will see samples of lesson 3 from book 2:
This is the first page about the artist Giotto. At the top of the page you will see the artist name, pronunciation(which is very helpful), and the dates in which they lived. The book is set up chronologically, which would make a great addition to you history studies.
Here is the continuing story of Giotto. Throughout the book you will find beautiful color pictures depicting the artists and their work. There are no inappropriate images, and you will find that if the original image contained nudity they have very subtly removed it. In the boxes you will find art terms defined, such as Fresco.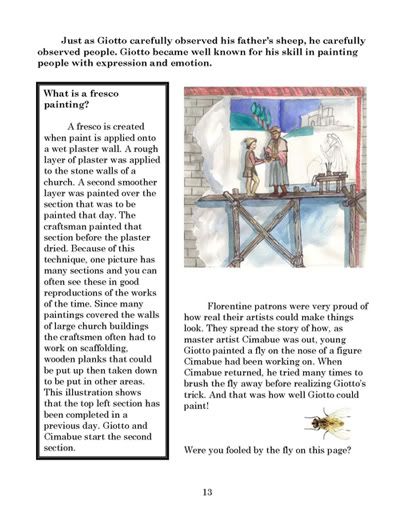 Here is the art project for Giotto! Since he carved on rock your student will do scratch art using cardboard, oil pastels, and a scratch tool. On the project page you will find straight forward instructions, and examples of other children's work.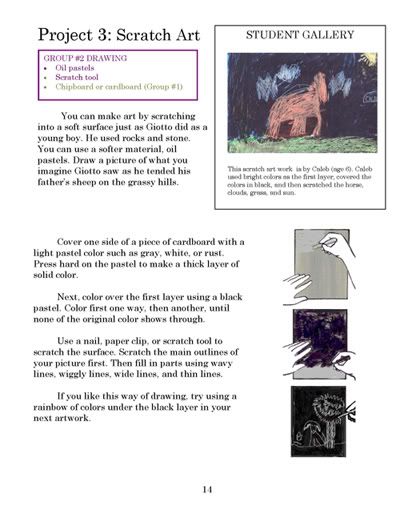 Here are some pictures of my kids completing the Giotto lesson:
The book is intended for K-3, but all three of my oldest were able to enjoy and participate. I feel like you could make this book work for slightly older students as well. Buttercup is 3 and she really gets into art. She even enjoyed listening to the readings first. Of course her finished products weren't always right, but she had a great time trying.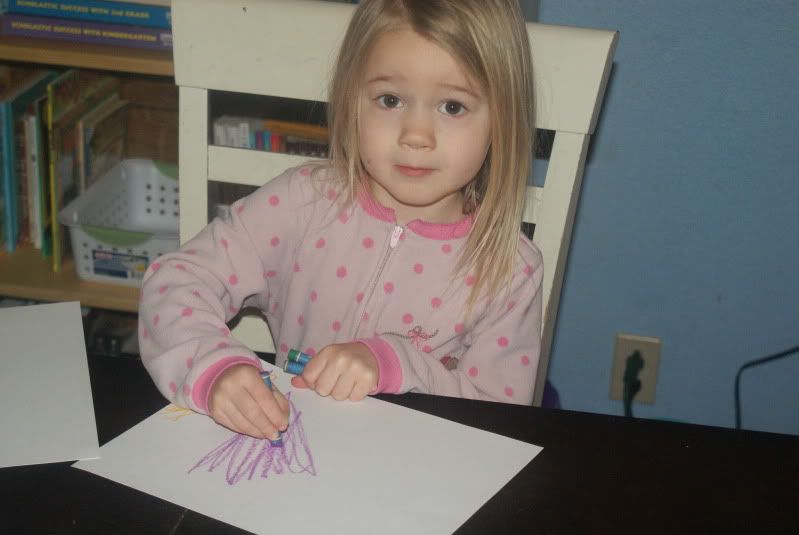 Sweetpea also enjoyed doing the projects. Here she is scratching her design!
Buster is not super artistic, but he enjoys art. This book really got him trying new things!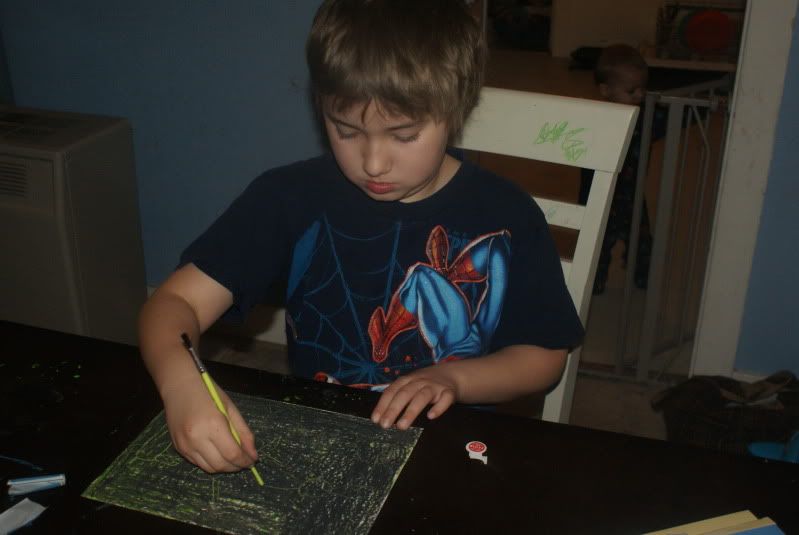 I can say that we all really enjoyed this book, and will continue using it! One other thing to note is that at the beginning of each book you will find a complete supply list. I was able to find most of the supplies, a few I could not find locally, but did find them online to order. Artistic Pursuits does sell supply kits for all their books on their site. If you want to purchase one of the
K-3 books
it will cost you $42.95 + shipping. The art
supply pack
that they sell for book 2 will cost you $92.00 + shipping, and should be enough for 2 students. You could always just buy the supplies as needed. You will find that at the beginning of each lesson it will tell you the supplies needed for that project. One nice thing about the books is they are non consumable, and can be used again and again!
Pros:
Colorful
Fun
Multi-age
Non consumable
Covers Art History, and Art instruction.
Cons:
Spiral bound.
Might be out of some peoples price range.
"ARTistic Pursuits, Grades K-3 Book Two, Stories of Artists and Their Art" was given to me free of charge in exchange for my honest review. No other compensation was given.

For more review of this and other Artistic Pursuits books visit the Homeschool Crew blog!