The Homeschool Crew is back for another voyage and for my first review of the 2011-2012 year we got the chance to check out a new game from
RandR Games
called
Pig Pile
! This game is the winner of two awards Detroit News Top Ten Games, and Toy Tips Recommended. Pig Pile is a fast paced game that reminds me of Uno meets Pass the pigs. It is designed for 3-6 players and for ages 7 and up! The game consists of a colorful deck of cards that contain pictures of pigs, a different pig for each number from 1-12. Game play is fun and continues until all cards are played. The pile of pigs come in as a way to keep score. RandR Games offers a whole line of original family and educational games.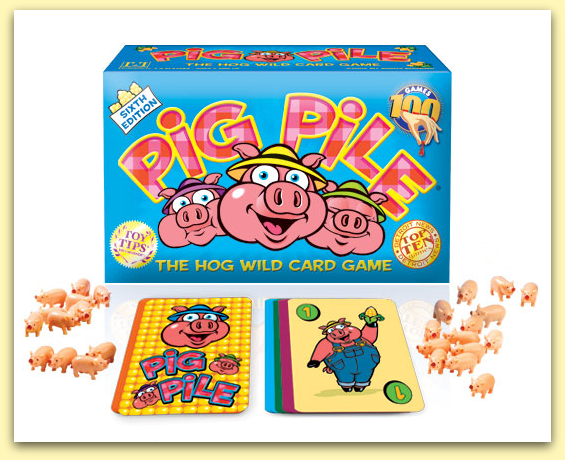 My kids are big into board games so I was excited to receive this as our first review of the year. I found Pig Pile to be a bit confusing at first as there are a lot of rules to learn. Once I figured it all out we had fun playing it. Just be sure that you fully read the instructions before beginning and you should be fine! The game is said to be for 7 and up, but my 5 year old was able to play easily. In fact she even beat my dad last time they played. You can purchase Pig Pile from RandR games for $15.95, and RandR Games was kind enough to give me a 20% off coupon code to share with my readers. If you want to use it simply enter CREW20 when you make your purchase! The code is valid until the end of 2011.
Pig Pile was given to me free of charge from RandR Games in exchange for my honest review. No other compensation was given.
Pros:
Fun!
Family oriented!
Cons:
A bit tough to figure out game play.
To read more reviews of this and other games visit
The Homeschool Crew Blog!