"Simply Discover Piano"
Kinderbach by Kari Gregor is a complete intro to music and piano for Preschool and Early Elementary children. We were recently given the chance to access their online version in exchange for this review. We had already had the chance to try Kinderbach last fall when I used a free 2 month trial code, so we have been able to go all the way through Level 1 and some of Level 2.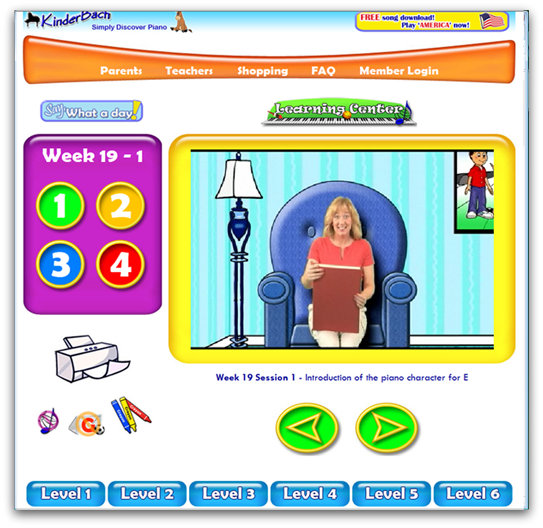 The program is made up of six levels, each broken into 10 weeks. Each week contains 4 short age appropriate lessons. You can choose to watch one lesson a day or even a few at a time. The lessons vary in length but many are quite short. Many of the lessons are also accompanied by printable worksheets that can be printed right from the lesson page or all at once for each level. The videos explain to the children exactly what to do with the worksheets.
Each video is fun and engaging for the kids and teaches them a little about music, notes, piano skills, rhythm, beats, loud and soft, high and low, and much more. Kids get the chance to work with a piano or keyboard every few lessons, and they also learn to use rhythm instruments.
Key placement and notes are taught using cute characters and catchy tunes! Dodi has become a household favorite around here. The kids remember very well where his house is between the two black keys, and they also can find the train station easily.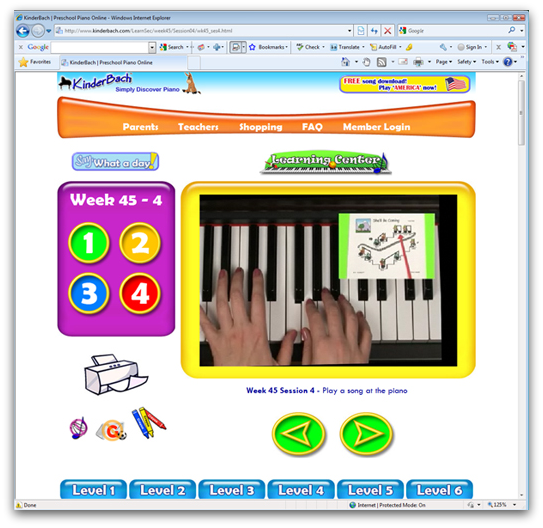 One improvement I have noticed since we tried it last fall is that you can now enlarge the videos to full screen, which makes viewing much easier. My husband has our old computer hooked up to our TV so we can watch it right on the TV.
All four of my children ages 2,4,6,and 8 enjoy Kinderbach and are learning things from it. My oldest finds some of it a bit babyish but he hasn't really complained.
If Kinderbach interest you at all you can access the first two weeks of Level 1 for free
here
! They also have some free samples of their worksheets for you to enjoy.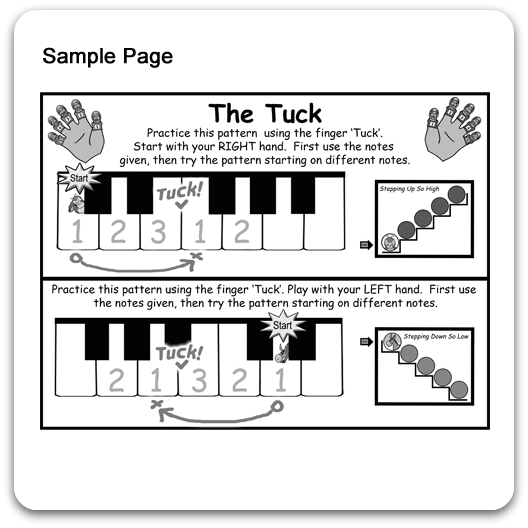 I will say that if you are looking for a full piano course than Kinderbach will probably not meet your expectations. On the other hand if you want a fun intro to music and early piano skills than Kinderbach is perfect for you! Since I have only seen the first two levels I am not sure how far you will get after all 6 levels, but I can imagine your little one will be playing some piano tunes.
Now I will mention one super silly complaint I have about Kinderbach. I wish they would put the login button on the right instead of the left because I'm always clicking on the wrong button.
You can purchase a year of online access to
Kinderbach
for $95.88(which equals $7.99 a month), or for $19.99 a month! Kinderbach is also available to purchase on DVD, and I believe as an IPAD/Tablet APP soon. Your purchase comes with a 30 day money back guarantee.
Be sure to check their
website
for discounts and Like them on
Facebook
for notification of sales and discounts which happen frequently.
Update: Karri just emailed me a discount coupon code for my readers. This code will get you 30% off of all Kinderbach products. Just type in this code TOScrew2012
Access to Kinderbach Online was given to me free of charge in exchange for my honest review. No other compensation was given.
Be sure to head over to the
Homeschool Crew
blog to see what other Crew member are saying!