I received a book from
AIMS
called
Getting Into Geometry
to review! The book is for grades K-1st and covers basic geometry concepts such as: 2D Shapes, Composing and Decomposing Shapes, Symmetry, 3D Solids, Spatial Relationships, and Playful Practice! Each one of these topics has a bunch of worksheets, games, activities, songs and even stories to go along with them. The books is quite thick and is 264 pages! Included in your purchase of the book is a CD that contains all of the necessary printables so you can print them off of your computer without having to photocopy. So basically the teacher prints the pages needed for the lessons, and follows along with the directions in the book. All of the worksheets are also contained within the book so you can see what is used and needed. There is also a list of needed materials at the beginning of each lesson.
I did some of the lessons with my 5 year old and 3 year old and they both loved them! I think many of them can be adapted perfectly for preschoolers as well. The book is packed full of fun worksheets and hands on activities to teach geometry. I did find Getting Into Geometry to be more geared toward classroom use, but it can be easily adapted for home use as well. AIMS Education sells a wide variety of books and manipulatives for elementary covering math and science topics. The book with CD "Getting Into Geometry" will cost you $24.95!
Here the girls are working on the first lesson:
Shape Sense!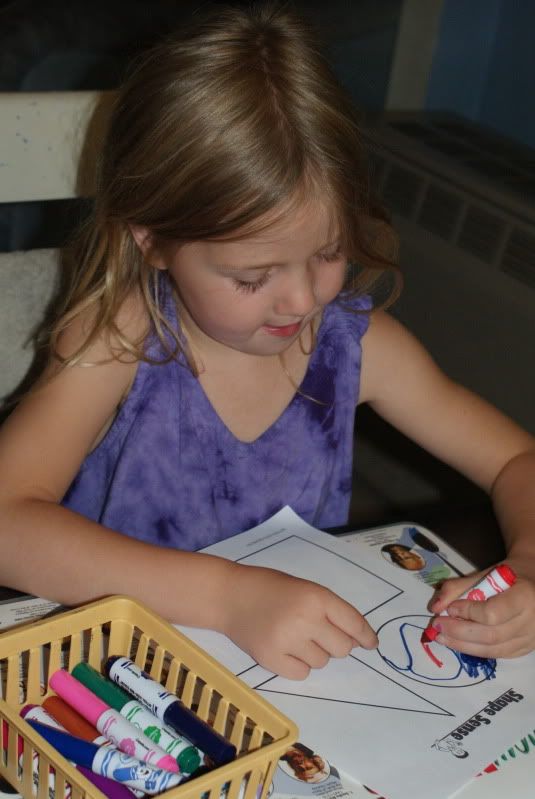 Second Lesson:
Making Models!
I adapted it a bit because we didn't have any straws.

I received "Getting Into Geometry" free of charge from AIMS Education Foundation in exchange for my honest review. No other compensation was given.
Pros:
Fun
Hands On
Multi Age
Reasonably Priced
CD for printables
Cons:
Geared towards classroom teachers.