You may have heard of the curriculum Five In A Row Before, but have you heard of their preschool curriculum called Before Five In A Row?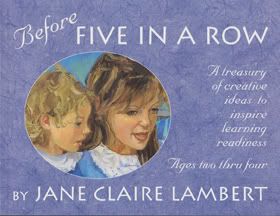 Before Five In A Row by Jane Claire Lambert is a unit study guide created for 2-4 year olds. The book contains 24 mini units based on classic children's picture books. The units are similar in feel to the Five In a Row Curriculum but even more laid back and less scheduled. The idea is to read enjoyable picture books with your preschoolers while introducing them to early learning skills. BFIAR introduces you child to such skills as Art, Science, Bible, Music, Math, Health, Language, and many more. The suggestions are simple and can be easily followed. Also you can pick and choose which activities you want to use for each book. Some of them build from book to book and are carried on throughout the guide. In the back of the book you will find a 40 page section just for parents. It contains a bunch of helpful info on early childhood development, toys to inspire imagination, and fun activities to do with your preschoolers.
I was excited to be able to give this book a try. It is one that I have heard about many times but never seen. I have seen Five In A Row, so I had an idea of what to expect. We happened to own 5 of the picture books needed. All of which are favorites of my children and quality stories. For us I found the guide just a bit to open. I prefer something more laid out for me of what and when to do it. Also I found some of the discussion topics to be above where my 3 year old is at. She enjoyed some of the art projects and more hands on type things though. If your looking for a gentle start to school that is very laid back than this might be just for you. You will not find schedules or even a guide of how long each unit should take, but you will find a book full of jumping off points, dozens of fun activity suggestions, and some really great picture book suggestions.
You can purchase
Before Five In A Row
from Rainbow Resource for $35 dollars! They also sell
literature packs
of all the books needed. For more info you can visit their
website
.
Before Five In A Row was given to me free of charge in exchange for my honest review. No other compensation was given.
Pros:
Fun
Gentle
Full of good preschool ideas
Cons:
A bit pricey
No schedule
To read more reviews visit the Homeschool Crew Blog!