R.E.A.L Homeschool Spanish
is a complete Spanish curriculum written by Homeschoolers for Homeschoolers. Dr. Karyn Williamson-Coria saw a need as a homeschool mother for quality, flexible, and easy to use at home Spanish curriculum and this curriculum is her answer to that need. The Spanish Curriculum is made up of 10 thematic units covering such topics as, Greetings, Colors, Animals, Family, Weather/Clothing, Body, Foods, and more. Basic Spanish Grammar is also taught along with phrases and vocabulary. The program is intended to be used for multiple ages within a family, and makes a great introduction to Spanish. What you get when you purchase is a Lesson book, an Activity book with printable worksheets, Answer Key, and Audio files that correlate to the Lesson book and Activity book. Within the Lesson book you will find Vocabulary words for the unit, Phrases and stories, and a plethora of activity and hands on learning suggestions. The activity book contains worksheets that correlate with all the lessons using a variety of puzzles, games, etc. to reinforce the learning. REAL Homeschool Spanish can take any length of time that is appropriate for you child. On their website they suggest anywhere from 1-3 years depending on child's age when you start. At their website you can find more info as well as a long list of links for extra resources. You can purchase
REAL Homeschool Spanish
as a download for $59.95 with the Daily Curriculum guide, or a hard copy for $99.95+SH.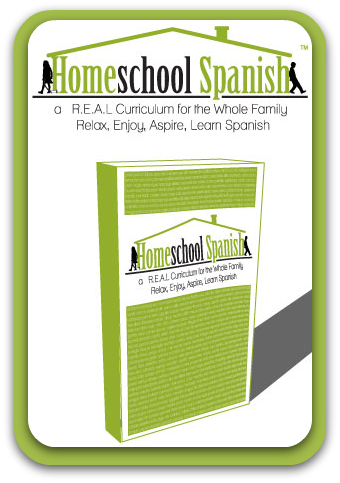 Now that you know what it is I will tell you what I thought of it! From what I have seen and used I will say that this is a well thought out and easy to use curriculum. In the first unit we were learning Spanish greetings and they suggested using puppets or dolls to introduce the words and phrases. This was a huge hit here and all of the children wanted to put on their own shows daily after me. They also had a suggestion for learning the greetings to the tune of Where is Thumpkin, and this was also a smashing success. As far as the worksheets they were a bit much for my children. I would say that they are more geared to 4-6th graders. Also I found some of the audio to be somewhat low quality, but I believe the audio is more intended for parents to listen to prior to introducing words. The only other complaint I could think of was I'm not overly found of PDF's. I like to be able to flip through the book right in front of me, but that is a personal preference. You could always print and have it bound, or buy the hard copy. I do also want to give a shout out to them for having excellent customer service! We will definitely be making use of this curriculum in the future most likely as the next step after our current Spanish curriculum!
R.E.A.L Homeschool Spanish was given to me free of charge in exchange for my honest review. No other compensation was given.