We Choose Virtues is a complete Character training curriculum for elementary students.
"We Choose Virtues was created by Heather McMillan, my wife of 20 years, out of her love for children and her desire to see them reach their personal potential. As a preschool teacher and a children's pastor, it concerned her how often she came across children whose lack of self control, honesty and perseverance was almost debilitating. How could they succeed in life without the skills that come from good character?"
The goal of We Choose Virtues is to instill values, Character, and good virtues into children from a young age. This is accomplished through colorful character cards, fun activities, goal charts, and more.
We Choose Virtues focuses on 12 main Virtues: Diligence, Helpfulness, Perseverance, Gentleness, Contentment, Attentiveness, Honesty, Kindness, Self Control, Patients, Obedience, and Forgiveness.
Each virtue is represented by a colorful cartoon character, and a explanation of what that virtue means. For example on the Diligence card it says,

"I am Diligent. I start fast, work hard, and finish strong. I am NOT....slow to get started or lazy, and I don't quit early."
They offer a whole host of colorful posters, cards, incentive charts, and teachers helps to guide you in teaching the 12 virtues.
You have two choices for the products Faith Based(which includes scripture references), and non faith based(that contains just the character traits).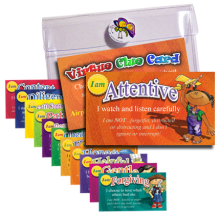 For the purpose of this review I was sent a set of the Virtue Clue cards featured above as well as a PDF of the other items pictures. The Coloring Book, Teachers Handbook, and Assessment chart. Sweetpea absolutely loves the virtue cards and had a great time picking a new virtue to practice each day. She even got all of the other kids involved and had them pick one as well. The coloring book was also a hit with Sweetpea because she loves to color. The book contains a picture to color for each virtue as well as a few worksheets. The Assessment chart is meant to be used as a way for parents to asses how well each child did at the end of the day with their virtue. As for the Teacher's Handbook I felt like I really could not do much with it because of the limited resources we were given and it seemed that much of it was geared towards a classroom setting. Non the less this is a 56 page PDF that explains how to implement and use their character training products. You will also find a plethora of fun activity suggestions in the Teacher's Handbook. If you want to find out more about
We Choose Virtues
be sure to visit their website. As far as product pricing goes you can pick up a set of the
Virtue Clue Cards
for $5.99+SH right now, they are normally $7.95,
The Teacher's Handbook
PDF is $4.99 or $19.99+SH for a hard copy, and the PDF
coloring book
is $3.00. They also sell a large selection of other products and complete classroom kits. The other products I received are free downloads always available.
I received The Virtue Clue Cards, and Teacher's Handbook Free of charge from We Choose Virtues in exchange for my honest review. No other compensation was given.
To find out what other Crew members are saying visit the
Homeschool Crew Blog!