As parents we are always hearing how important it is to protect our children online. Action Alert is a downloadable Internet filtering system for kids that provides 8 safety tools for parents.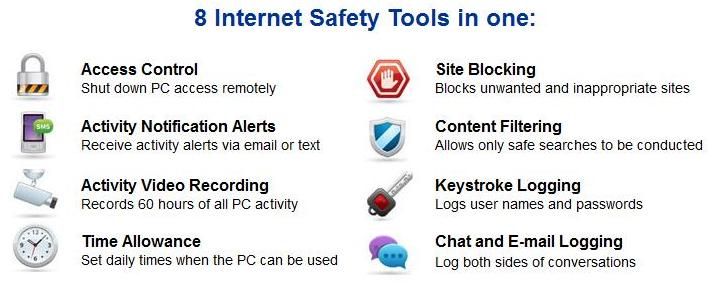 Action Alert
offers two versions, a free version, and a version for $29.99 that comes with the added benefit of multi user protection, fully customizable, and full social network monitoring.
They way Action Alert works is it allows parents to add specific sites to be blocked to Action Alerts already continuously updated list of unsafe site, or parents can create a list of specific sites that can only be viewed. Action Alert also notifies parents by email or text of any suspicious activity on the protected computer. Other features include time setting abilities, and the ability to be able to go back and view up to 60 hrs of internet browsing.
Action Alert has received several awards and even an appearance on the Today Show!
For us this product is been a bit difficult to review because we do not allow any of the kids to really surf the web. I did a bit of surfing myself to see how it worked and I was personally not overly impressed. I searched a few fairly innocent words that I knew had the potential to bring up inappropriate content. One such word was Victoria. I was very disappointed in the images that were brought up by Action Alert's Safe search. I also didn't have very good luck with the two websites I put into to be blocked. One of them appeared to be blocked because the page wouldn't load, and the other went right to it even though I had added it to the blocked list. I tried this multiple times. I also tried to use the feature that only allows specific sites and that was super annoying because a password box would pop up constantly even when I was just trying to load my browser. Now some of these problems could be due to my browser or computer but I really felt like Action Alert was very glitchy over all. If you are interested in this product for your family I wouldn't hesitate to give the free version a try and see how it works for you. I would definitely try it out extensively before allowing the kids to use it. Personally I don't feel like any filtering system takes the place of parental supervision online.
Access to Action Alert was given to me free of charge in exchange for my honest review. No other compensation was given.
To read what other families thought of Action Alert visit the
Homeschool Crew Blog!