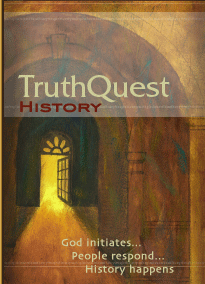 "TruthQuest History is a deep and rich literature-based history study…but with a difference. You will not learn the story of mankind; you will learn the lovestory of mankind. You will not focus on the rise and fall of human civilizations; you will focus on the arrow-straight line of God's unchanging existence, power, love, truth, and plan for civilization. You will not simply 'meet the culture' or 'get the facts;' you will probe the truths of history so deeply that your students will be equipped to change their world!"

I recently received a PDF download from TruthQuest History called, "American History 1(Exploration-1800's)". This particular guide is meant to be used with children from grades 1-5 and is the first part of a 3 part series. TruthQuest also sells a complete set of chronological guides for grades 5-12.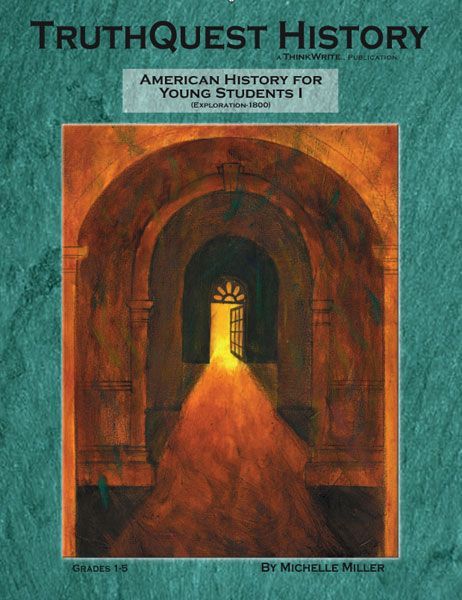 TruthQuest guides are strictly for the study of history and have a small amount of writing thrown in. In this guide you and your student will go on a complete tour of early American history and learn about all of the big events and people. Tougher topics are covered lightly for this age level. There is also an extensive study of Native Americans within this guide. TruthQuest history is unashamedly Christian and has references to God throughout, although not all book suggestions are Christian.
Basically how this guides works is that it serves as a guide, but it is not exactly open and go per say. The PDF begins with an introduction to parents that explains how TruthQuest works, gives suggestions for some helpful books for parents to read in order to brush up on the topic, and also suggests some books that can be used throughout as spines. I noticed that many of these have a decidedly providential view. Within the guide are 52 topics with many subtopics. Basically parents choose any books they want in order to study each topic as they come to it. American History 1 contains a large list of possible books(nonfiction and historical fiction) many of which I own or have heard of before. Each topic begins with a 1-2 page introduction that is written in a very conversational tone, and then there are shorter paragraph long commentaries about some subtopics. Parents are to read the commentaries to the children before delving into the living books they have chosen for the topic. Also included are small boxes called ThinkWrite that offer ideas for writing prompts. At the end of each topic along with the book list there are activity suggestions that basically consist of coloring book suggestions, activity guide suggestions, some toy ideas, and cooking ideas. Each topic also has a short list of audio and film ideas.
Overall I felt like American History 1 gives a good overview of American history for the intended ages. These guides would be perfect for someone looking for: just History, a basic guideline(especially for the tweekers at heart), something very Christian, living books, and for combining large age groups. I don't think TruthQuest guides would appeal to someone looking for: open and go, hands on, secular, completely non providential, a completely pre-read book list(the author states very clearly that she has not pre-read all suggestions and that parents need to take care when choosing books), something that encompasses multiple subjects, or a more narrow age group focus.
If you are interested in any of TruthQuest's history guides be sure to visit their
website
to learn more and view samples. You can purchase
American History 1
as a PDF for $19.95, or in print for $24.95. They also sell PDF for notebooking and timelines.
Disclaimer:
American History 1 was given to me free of charge from TruthQuest in exchange for my honest review. No other compensation was given.
Be sure to check out the
Homeschool Crew blog
to read more about this and other guides from TruthQuest.