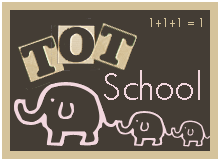 "Buttercup is 20 months"
Last week I decided to make a designated tot time. I have been finding it hard to get around to it and actually taking pics. Tot Time is now after lunch and before read aloud time. Buster, Sweetpea, and I have been taking turns choosing one activity a day. Here are some things we did last week.

Looking at flowers
Sea Animals in a bucket of water. All the kids love this.