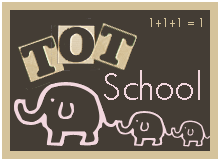 "Sweetpea is 38 months and Buttercup is 11 months"
We had full week of tot school this week and I took way to many pictures ;)

Reading time
Shape sorting in a clean room

She made me mashed potatoes and chicken




Playdoh fun! I finally made them some kool-aid playdoh.

Kool-Aid Playdough
Ingredients:
• 1 1/4 cup flour
• 1/4 cup salt
• 1 pkg unsweetened Kool-aid (just the dry koolaid, don't mix it into juice)
• 1 cup boiling water
• 1 1/2 Tbsp vegetable oil
Directions:
1. In a bowl, mix flour, salt and kool-aid.
2. Stir in water and oil
3. Knead with hands for about 5 minutes.
4. Store in ziploc bag for up to 2 months.
5. Use like playdough.
6. Smells wonderful and takes on the color of the koolaid


Worksheets


http://www.janbrett.com/put_the_animals_in_the_mitten.htm
Counting blocks
Puzzle time
Yummy!
For more great Tot School entries go to
http://1plus1plus1equals1.blogspot.com/