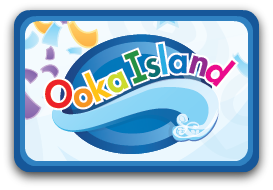 Are you looking for a fun, online, interactive, complete reading program! If so Ooka Island might be just for you! Ooka Island consists of two parts Ooka Island Adventure, and The Ooka Book Path. It is designed for children 3-7. In Ooka Island Adventure you child will enjoy 24 levels of fun 3D learning games that focus on phonological development, blending, and reading words. The Book Path contains 85 leveled interactive E-books that contain language rich text and are divided into three levels; Emergent, Beginning, and Fluency. Children earn new books after playing games, and the books can be read to them at first and then on their own.
On the adventure map children are led through 10 different game areas that continually increase in difficulty. Sweetpea liked The Cake Factory, Alphabet Mountain, and The Cave of Sounds the best. Players earn coins from all the games they complete that can be used to buy things for their avatar as well as free play time. At first game play starts out at the earliest levels of phonics, but it adapts to your child's skill levels automatically. Parents can monitor their child's progress by logging into the Ooka Lighthouse. If you want to learn more about Ooka Island you can check out their
website
and you might also find
their You Tube channel
helpful. You can see free samples of a few of the e-books
here
.

Above you will find a 30% off coupon for a one month subscription to Ooka Island,
and below is a chart of their regular pricing:
Overall Sweetpea enjoyed Ooka Island she liked the games, and the books. She was also able to easily navigate the program on her own. One feature of the game is voice recognition for sounds. We do not have a microphone, so we did not get to try this feature. Sweetpea was still able to play all the games anyways. I really appreciate Ooka islands emphasis on Phonics and can see that for many children it could be a very effective tool for learning to read. As long as your child is able to perform basic mouse skills they should be able to play. Personally for me the price is a bit steep but it is comparable to most other programs of its kind. Ooka island has an advantage though because it is such a large program, so you get a lot of bang for your buck!
I received a subscription to Ooka Island in exchange for my honest review. No other compensation was given.