I can't believe that it is already November! This school year is really flying by. The last few weeks we have had some fall fun, Sweetpea started her 1st grade work and she also turned 6. I will break down some of our progress by student and subject.
Working on his Science notebook: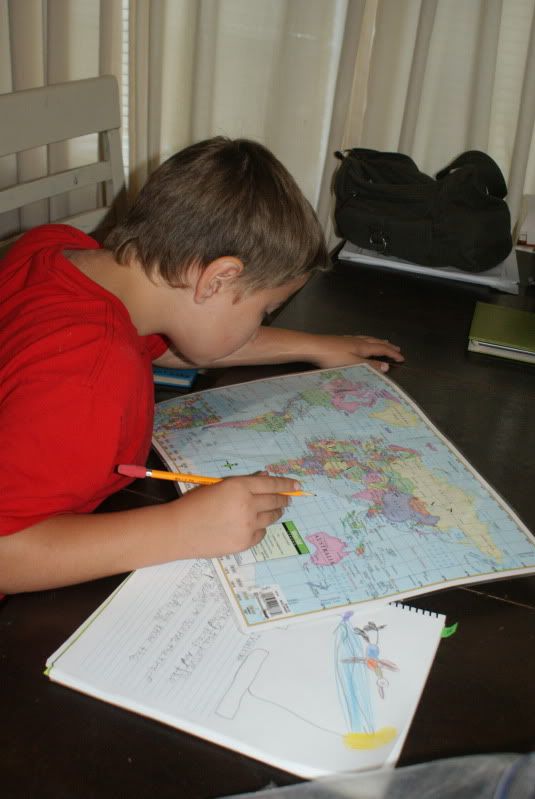 Buster:

He just finished unit 12 of Bigger Hearts!
Bible:

He has been learning about Wisdom, Perseverance, and Self-Control. As well as memorizing Proverbs that go with these traits.
Math:

He is learning to multiply and divide by 6, 7, and 8. As well as multi digit multiplication and division. There was some big time frustration with some of these concepts for a week or so.
Handwriting:

Buster is learning cursive and he very much enjoys Cheerful Cursive
Dictation/Spelling:

We finally finished AAS 2, and he is also on the 28th dictation passage in Bigger Hearts.
Grammar:

He learned about Nouns, Verbs, and now is working on Pronouns.
Reading:

He has read The Storm, Treasures of Pelican Cove, and is now reading Jeremy: the Tale of an Honest Bunny.
History:

We studied Benjamin Franklin, Slavery in the Colonies, and George Washington's Early Years. Each week he has timeline and history notebook entries to do. Last week he was supposed to find out what countries his ancestors came from so I had him write a list of countries for my side and daddy's side. I also printed out a world map for him to glue in his notebook and color in all the countries. Today he did an entry for George Washington and I had him follow the illustration from Draw and Write through history book Pilgrims, Pirates, and Patriots.
Science:

With daddy they have been learning about Whales, Narwhals, and Seals. Along with Bigger Hearts he learned about some of Benjamin Franklin's adventures, and is now learning about John Audubon and birds. He also does a Science notebook entry weekly and an experiment/notebook entry as well.
Storytime:

I have been reading Farmer Boy to him and he loves it. I was quite impressed with his narration he gave the other day. It was on a day I was supposed to write it down and I could barely keep up with him.
Hymns:

He learned Oh God our Help In Ages Past, and is now learning Amazing Grace. I'm really surprised how well he enjoys the hymns!
Poetry:

We read a new poem each week and learn about Rhyming, Stanzas, Repeated words, Rhythm etc.
Vocabulary:

He has vocabulary once a week and he is learning about 3 words a week that come from our history text. He copies the meanings of the words onto an index card and draws a picture of it on the back. He then puts each word alphabetically in a file box.
Geography:

We have talked about climate zones, and how maps are a view from above.
Art:

For some reason the last couple of weeks we have skipped the art projects probably because they tend to fall on Co-op day and we are too rushed.
Co-op:

Last week each kid in his group was given a colony to learn about and bring back some answered questions. Buster was given Connecticut and he really got into it. It is amazing that he didn't mind writing when someone else asked him to.
Building an edible bird nest: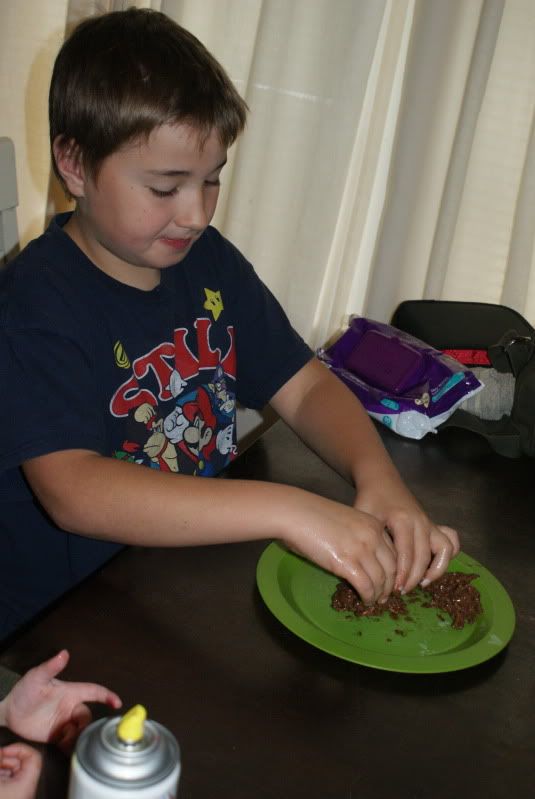 Sweetpea learning about ocean currents: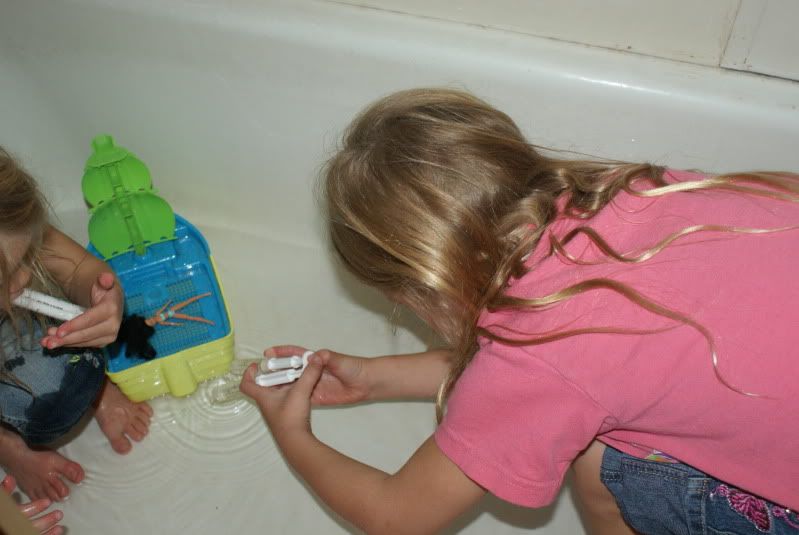 Sweetpea:

She is on Unit 3 day 3 of Beyond. Right now she is doing it 4 days a week.
Bible:

So far she has learned Psalms 4:8, Galatians 6:9, and 1 John 4:16. She loves the CD Hide Em In Your Heart Vol. 2 that goes along with her Bible.
Math:

She is doing Singapore Math 1a, and so far it has been a breeze for her. It started out with learning number words and this week we have been learning number bonds. I love Cuisenaire rods for this.
Phonics:

She is on page 90, and she has been practicing the sounds: ing, ang, ong, ung, ink, ank, unk, and long a. She also is doing book 2 of Explode the Code, and Reading Pathways.
Reading:

She finished her Christian Liberty Press phonics reader book 1 and is reading book 2 right now. I'm happy to say that she is reading excellently lately! Hopefully soon she will be able to start the Emergent Readers.
History:

For history we have read about the settlers of St. Augustine, and Jamestown. This week we started studying the pilgrims.
Science:

She also is learning about Sea Creatures with daddy, and we do a fun science experiment/activity along with Beyond.
Storytime:

I finished reading George Washington by Ingr and Edgar D'Aulaire and am now reading their Pocahontas book to her.
Spelling:

She is doing the 1st spelling list in Beyond and is doing great with it.
Poetry:

Right now I'm reading a poem a week to her and she likes to act them out. She also copies about one line a day for copywork.
There is also a rotating box that covers Geography, Art, History activity, and Timeline.
So far I feel like Beyond is a perfect fit for her and she is really enjoying it.
Doing her copywork, and making a map:
She finished her first Rod and Staff preschool book and started the second. She also is up to letter E in Little Hands to Heaven.
Buddy:
He started begging for his own school books so I gave him some dollar store workbooks and he likes to get them and his crayons out and color. Other than that he loves his board books, and airplanes. He also likes to try and join in with Spanish lessons and anything else he can.
Everyone:
Spanish:

For Spanish the kids watch a Salsa episode or a Speekee episode every morning, and we started ¡El Español Fácil!, Junior Level. So far I really like it!
Artists Study:

We have been learning about impressionists and reading about and looking at pictures by Monet. Right now we are reading Linnea in Monet's Garden.
Composer Study

: We are using Meet the Great Composers right now and the last composer we learned about was Haydn.
State/President study:

We didn't get to it this week, but last week we covered Andrew Johnson, and New York.
Wow! This looks like a ton but I was trying to run down about 3 weeks of work because it has been awhile. How is your school year going? Head over to
http://www.weirdunsocializedhomeschoolers.com/to
link up and read more wrap ups!