Week 39, and 40:
The last two weeks we have been doing school but fairly lightly. I decided to have Sweetpea take a break from Little Hearts For His Glory. She will finish the last 8 units when we start back up in July. Sweetpea has pretty much just been working through her math book and doing Phonics Pathways. She finished her Handwriting Without Tears K book and started A Reason For Handwriting A. She also continues to do The Reading Kingdom. Buster finished Stone Fox, and Read Dolphin Adventure. He also completed a book project for Stone Fox. Right now I'm reading Little House on the Prairie to him and he loves it. We have also been enjoying watching the first season of the Little House TV show. All the kids are really into it now. Other than that he is just doing Big IQ Kids, Wordy Qwerty, and some math practice daily. We only have one week left until our summer break!
I checked my camera card today and realized this is the only new picture I have taken.
Sweetpea working through a
Peter Pan preschool pack
I printed for her.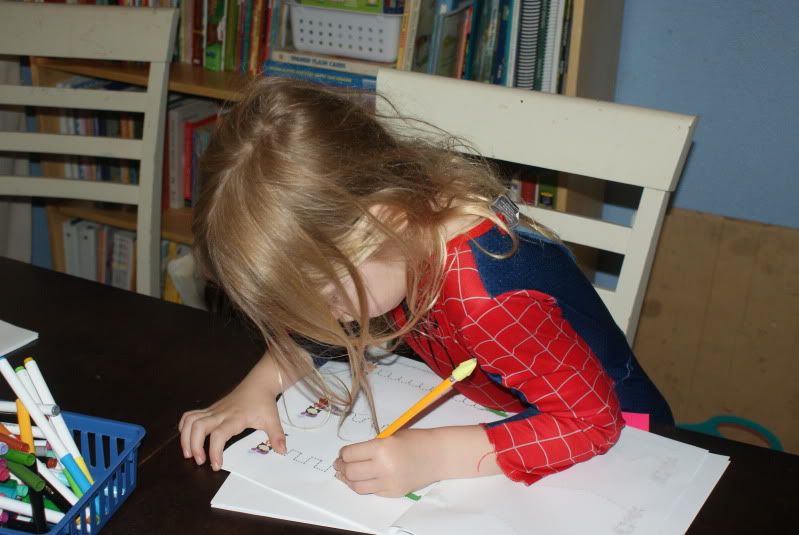 Besides doing school we planted our garden finally, and we have been able to enjoy some fun times at the park. Yesterday was the first day this year that I could say I actually felt warm/hot outside. I posted my last review for the 2010-2011 Homeschool Crew! I can not believe this year is already coming to an end but I'm excited to see what the next one will bring. This coming week I'm going to post my top ten favorite review items, and I will also be starting a blog hop/meme. You can read the details about it
here
! I would love for you all to join me. Be sure to check back to my blog on Thursday for the first entry.
For more weekly Wrap ups visit
weird unsocialized homeschoolers
!